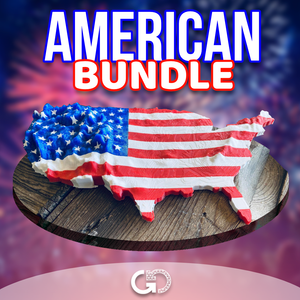 FULLY
Made
In
America
: Resin, Pigment, Extrusion... even the spools are American-made!!! 


You get 3 spools: 

 

American Red

,

American White,

 

American Blue, AND a tshirt!!!




Be the best dressed printer around!
1.75 mm +/- .05 mm
2.2 net pounds (a full 1 Kg net)
Print Temperature: 205°C - 250°C
Bed Temperature: 80°C
FULLY Recycled
Environmentally Conscious
Odorless
Generous Flexibility
Unmatched Layer Adhesion
NEVER Subject to Tariffs, because it's made HERE in America!
GreenGate3D: Recycling The World's Plastics, One Filament At A Time.
Works Well
The red color gives you wings