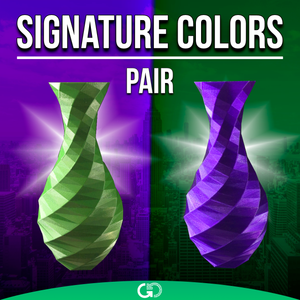 100% Recycled PET-G!


Made In America:

Resin and Extrusion!!!


1.75 mm +/- .05 mm
2.2 net pounds (a full 1 Kg net)
Print Temperature: 205°C - 250°C
Bed Temperature: 80°C
FULLY Recycled
Environmentally Conscious
Odorless
Generous Flexibility
Unmatched Layer Adhesion
NEVER Subject to Tariffs, because it's made HERE in America!
GreenGate3D: Recycling The World's Plastics, One Filament At A Time.
View MSDS here
Great color combo
Absolutely love the Translucent Purple. Green looks great too and living in a military town I'm thinking about making some military themed stuff with it!