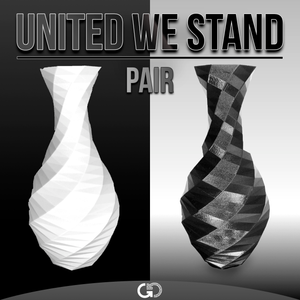 Divided We Fall
In this bundle, we package

American White

with

Black

, respecting the unity we should ALL strive for.
100% Recycled PET-G!


FULLY 
Made
In
America
: Resin and Extrusion.


1.75 mm +/- .05 mm
2.2 net pounds (a full 1 Kg net) x 2
Print Temperature: 205°C - 250°C
Bed Temperature: 80°C
FULLY Recycled
Environmentally Conscious
Odorless
Generous Flexibility
Unmatched Layer Adhesion
NEVER Subject to Tariffs, because it's made HERE in America!
GreenGate3D: Recycling The World's Plastics, One Filament At A Time.
Satisfied customer
Great company to do business with! Awesome products made in the USA.
Our go to material !
Super reliable material, the faces of my customers when I hand them a print and I tell them its 100% made in USA out of recycled materials is highly rewarding, looking forward to buying from GreenGate3D for years to come !
Prints are awesome!
This filament is amazing, nice colors, nice printing, and good strength. A little expensive, but I'm ok with paying the higher cost knowing this is truly 100% american made. Long live greengate !
Great Stuff
I have completely fallen in love with GreenGate PETG filament. Great bed adhesion, little to no stringing and awesome colors. This combo pack was a great deal to boot! Will definitely buy from GreenGate 3D again. Oh and the customer service rocks!